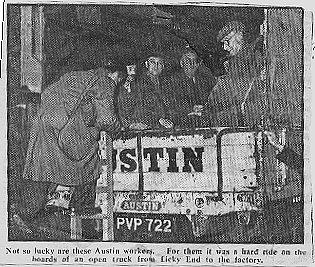 William was in the South Staffordshire Regiment during the First World War. His pleasures in peace time were fishing and bowling, for which he won many prizes. He was a founder member of the 'Lickey End Working Men's Club'.
He spent the majority of his working life at 'The Austin' car factory in Longbridge, Birmingham. 'The Austin' had a tradition of building good quality, solid, British cars.
The newspaper clipping left is of workers from the plant being collected from Lickey End, (a village situated just north of Bromsgrove  in Worcestershire) in an open top lorry during the bus strike of July 1957. William is the one seated on the far right in the flat cap and glasses.
It is poignant,that at the time of writing William's eulogy, the factory that provided him and his fellow workers, past and present, with the means of feeding their families is now under threat of closure. Read more…