It is free to submit an obituary on In Memory Of but before submitting please first read the 'Policies' page. To submit an obituary notice please click on 'Create a Memorial'.
All information in this Site is provided "as is", with no guarantee of completeness or accuracy.
Below is a comment from our Guest Book.
Subject: Sending my love
Sending my love & fond memories to Clinton James, a very near & dear friend of mine. God took him way too soon but I also know that he is in good hands, he walks with God. May he walk in peace with Christ.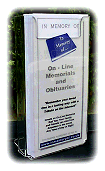 In Memory Of are offering a free memorial service to people who have created a YouTube video for their loved ones. Established in 1999 In Memory Of received worldwide TV, radio and media coverage. In Memory Of was set up to provide a new and unique service, enabling people to express their feelings for their loved ones using our memorial and obituary tribute facility. If you already have an obituary, memorial page or tribute on YouTube, please feel free to add the link to this site. In Memory Of has a considerable amount of daily traffic and placing your link and a few lines of text will enhance your tribute to your loved ones.
Related articles