---
Join InMemoryOf ..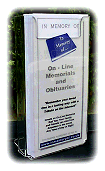 In Memory Of is providing a new and unique service. We know that many people in the UK and throughout the world could benefit from our on-line obituary notice service and by being able to express their feelings for their loved ones using our memorial tribute facility.

We want as many people as possible to be made aware of our service - and to have the opportunity to place their thoughts on the web site.

We therefore need help to bring this service to the attention of people who have lost someone. To this end we are looking for people to act as agents for the service initially in the UK only

It costs nothing to join us. You don't even need a computer - but it would help. Ideally you'll already be involved in a business where you come into regular contact with people who have been bereaved (e.g. funeral directors, monumental masons, cemetery personnel, florists etc). Ideal qualities are sensitivity and enthusiasm coupled with a desire to promote a service which we believe will really help people.

What are the benefits of being part of InMemoryOf ?


Helping people come to terms with their grief.

For those already in the funeral and memorial trades, being able to provide FREE obituary notices enhances your offering.
InMemoryOf pay a generous commission of sales of memorial tributes.

Being part of the future of Remembrance

What should I do to join ?

Send us an email