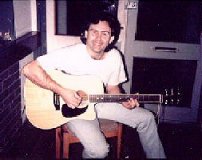 Neil's talents on the guitar didn't go unnoticed by his colleagues and he was asked to accompany Finbar Furey on a UK tour. Finbar, himself a great musician, became firm friends with Neil and once described him as a "genius on the guitar."
In 1981, The Fureys released their most successful single "When You Were Sweet Sixteen", becoming a worldwide hit, reaching #14 on the UK Singles Chart,  #1 on the Irish Singles Chart and #9 on the Australian Singles Chart. "The Green Fields of France" also gave them an Irish #1, remaining in the single charts for twenty eight weeks. They also had two Top 40 British albums called Golden Days and At the End of the Day.
Playing with Finbar lead to him being invited to stand in for the guitarist with The Dubliners on one of their tours.
The Dubliners created international success with their lively Irish folk songs, traditional street ballads and instrumentals. The band were regulars on the folk scenes in both Dublin and London in the early 1960s, until they were signed to the Minor Major label in 1965 after backing from Dominic Behan. They went on to receive extensive airplay on Radio Caroline, and eventually appeared on Top of the Pops in 1967 with hits "Seven Drunken Nights" and "Black Velvet Band". Often performing songs considered controversial at the time, they drew criticism from some folk purists and Ireland's national broadcaster RTÉ had placed an unofficial ban on their music from 1967-71. During this time the band's popularity began to spread across mainland Europe and they appeared on the Ed Sullivan Show in the United States. The group's success remained steady right through the 1970s and a number of collaborations with The Pogues in 1987 saw them enter the UK Singles Chart on another two occasions
Despite his all-consuming passion for music Neil found time to study Psychology at Fircroft College in Selly Oak where he made many friends.
Around this time he also struck up a friendship with Seamus Mallon and formed a band called 'Sham' (Gaelic for "friend"). Between them they wrote and recorded fine music. Read more…