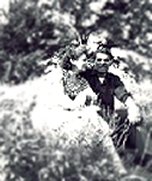 She had a good innings but still she deserved to live a lot longer, a very happy and kind lady who lived through two wars. She married Stanley W. Rogers and had three children by him the first being Terry, followed by Monica and last the only one now left my aunt Marcia. She brought them all up with family values, and during the Second World War she and the children were evacuated to Bude in Cornwall, now at the time of this she was living in Eltham, London, so travelling to and from Bude became a regular occurrence. She worked at the Woolwich Arsenal in between and after the war until retirement. After the war had ended, the family moved to Welling and then on to Plumstead, both in southeast London. Read more…
Staff from the Royal Arsenal helped design, and in some cases managed the construction of, many of the new second World War Royal Ordnance Factories (ROFs) and ROF Filling Factories around the UK. The majority of the ordnance production was moved from the Royal Arsenal to new sites as the Royal Arsenal was considered vulnerable to aerial bombing from mainland Europe. The original plan was to replace the Royal Arsenal's Filling Factory with one at ROF Chorley and one at ROF Bridgend. It was then realised that many more ROFs would be needed. Just over 40 ROFs were opened by the end of World War II, nearly half of them Filling Factories. 30,000 people worked at the Royal Arsenal during World War II.
The Royal Arsenal was caught up in The Blitz; the staff of the Chemical Inspectorate, working with explosives, were evacuated in early September 1940. Shortly afterwards one of the Frog Island buildings was destroyed by bombing and another damaged. The laboratories were partially re-occupied in 1945 and fully re-occupied by 1949.
During the quiet period after the end of World War II, the Royal Arsenal built railway wagons for export. Armament production then increased during the Korean War.