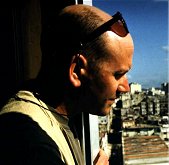 After gaining a degree in Fine Art at Exeter College of Art, Peter Bright worked in a design and print studio. Moving back home to rejoin, and finally run his family's Monumental business in Worcestershire. During 1998 he made a decision to sell this business to concentrate on the design aspect of the memorial trade and explore its possibilities on the Internet. In 2002/03 he went to Wolverhampton University to study painting. In 2004-2005 Peter enrolled at Bristol University to do a Msc. in Entrepreneurship.
Also see www.northdevonweb.com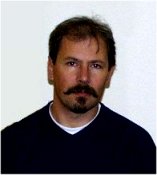 Mark Wakefield spent 15 years in advertising before leaving to start his own business. After briefly owning a retail outlet and a record label, he formed Stretch Marketing, a marketing and website design consultancy mainly specialising in the fashion and music business.

Mark, Alan Slater & Peter,
Birmingham March 2000

29THMarch 2000, InMemoryOf sign a strategic alliance deal with the National Association of Funeral Directors (UK). This alliance allows the members of the NAFD easy access to the services of InMemoryOf, allowing their clients to place on-line obituaries and memorials as a part of their funeral packages.Alan Slater, NAFD's chief executive, said "We are all aware of the tremendous Internet explosion, and the NAFD has been approached by numerous companies offering on-line services relevant to our industry. We were particularly impressed by what Peter and Mark had to offer, because of their empathetic approach to the needs of our members and their clients. We believe they will uphold the high professional standards that the NAFD requires, as well as offering a discreet service that will be beneficial to the bereaved."
Peter & Mark took InMemoryOf to the first ever national exhibition for the funeral services industry. This was at the National Exhibition Centre in Birmingham (UK) between the 13th & 15th May 2000. This gave Funeral Directors an opportunity to experience the next generation of remembrance

.

'FSE 2000' Birmingham May 2000
NEC Birmingham May 2000