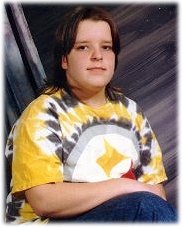 Jarrett lost his life just a few weeks before his 15th birthday in a dirtbike crash caused by another rider. He so loved life and will never be forgotten though he has gone on before those who loved him.

On the date of his 15th birthday a tree was planted in his memory in front of his school. This weeping cherry tree blooms each spring reminding us that life never really ends...it just changes forms. One day I will see my son again...

He will be "Our son and brother forever. Always in our memories, forever in our hearts."

Jarrett was such a special young man. Loved by so many and missed by all. We will always love you, Jarrett. One day we will be reunited forever more.....

Love always and forever

Dad, Mom, Dawn and little nephew David.